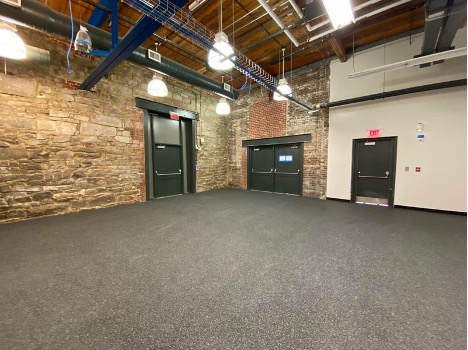 04 Oct

GSU Soccer Teams New Home

Georgia State Soccer Teams Enjoying Success at New Downtown Home

ATLANTA — As the Georgia State men's and women's soccer teams get ready for the back halves of their 2021 schedules, they're making the most of their brand-new home pitch.

Opened in August in time for the teams to host their first exhibition matches of the season, Georgia State soccer's new home is the renovated former practice field of the Panthers football team.

The facility includes a playing field, locker rooms, a training area and team meeting rooms for both squads.

Moving into the complex at 188 Martin Luther King Jr. Drive from their former home in Decatur is another step toward bringing Georgia State athletics closer to downtown from their far-flung outposts around the Atlanta area. The new soccer facility is just a few blocks northeast of the Summerhill neighborhood, which is home to Georgia State's Center Parc Stadium, the Panthers' football venue.

Just north of Center Parc Stadium, the former home of Atlanta Braves baseball, Georgia State is constructing a multiuse convocation center, which will be the new home of Panthers basketball when it's complete next summer.

Georgia State also has plans for a baseball and softball park on the footprint of the former Atlanta-Fulton County Stadium, between Center Parc Stadium and the convocation center site.

"The idea is creating an athletics neighborhood," Georgia State Athletics Director Charlie Cobb said. "If we can bring the facilities where our kids practice and compete closer to campus, it gives us a chance to build fan support from our students, faculty and staff. I think on any campus, athletics plays a big part in student engagement and certainly making it convenient for kids to come to games and providing them an opportunity to enjoy the experience is something we're about and really interested in accomplishing."

So far this season, the men's soccer team (7-2) has hosted three matches on its new pitch, including Saturday's 2-1 win over Wofford. They're back at home Oct. 12 against East Tennessee State.

"This is such an incredible facility for our soccer programs," men's soccer head coach Brett Surrency said. "Big thanks to our administration and operations staff for the vision and execution of putting together such an elite complex, right in the middle of downtown Atlanta."

The Georgia State women (7-3-2) are looking forward to a three-match homestand to start the next month as they host Coastal Carolina Oct. 1, Troy Oct. 3 and South Alabama Oct. 8.

"This facility is a massive step forward for our program," women's soccer head coach Ed Joyce said. "It allows us to really embrace what we are: an urban campus in the middle of one of the fastest growing cities in the country."

We are proud to have been part of this amazing team with FS360, Slam Collaborative and PTurf  bringing new life back to the athletic facility. Thank you GSU Athletics and Kevin Payne for giving us the opportunity to be part of such a multifaceted project. We look forward to continuing our working relationship with GSU.